Look deeply into my eyes.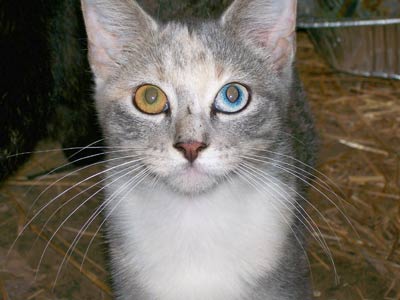 Aqua
Photo by: Patty and Ronnie Hale, Columbus, Kansas
[This is] a picture of a kitten that was dropped at our farm along with a brother kitten. They were pretty poor when I found them around the house and took them to the barn to take a better look at them. Aqua is the one with the two totally different colored eyes and her brother we named Tuffie, they were both very neglected and flea bitten, but with a little flea soap and some ear and teeth cleaning, they are both doing great. Wanted to share the beautiful face of Aqua and her eyes.
« previous | home | next »
The comments to this entry are closed.
« previous | home | next »