I'm just a wee lad from the highlands...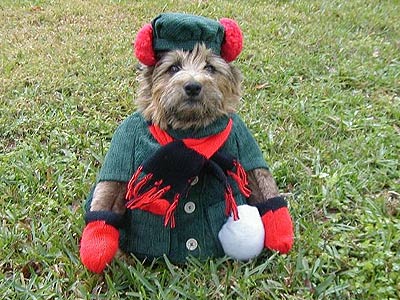 Riley
Photo by: Mariann Kohnke, Spring Hill, Fla.
"Riley is dressed for winter and ready to lob a snowball to the first person who makes fun of his outfit."
Posted on Oct 25, 07 12:20 PM | Comments (13)

Oh give me a home where the buffalo roam...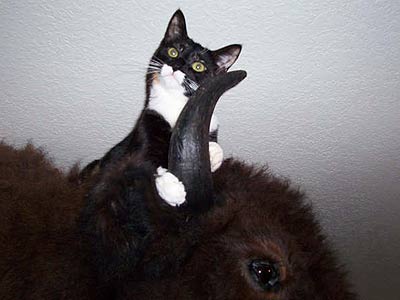 Pucker
Photo by: Virginia Putsch, Kansas City, Missouri
This is my cat Pucker! She is 3 years old and the vet promised me she would calm down after we had her fixed. (**giggles**) Well I came down to our recroom/office one morning and there she was hugging the buffalo mounted over our fireplace. Thank goodness I keep my camera handy because this cat is full of high jinks like this.
Posted on Oct 8, 07 04:12 PM | Comments (9)

Look deeply into my eyes.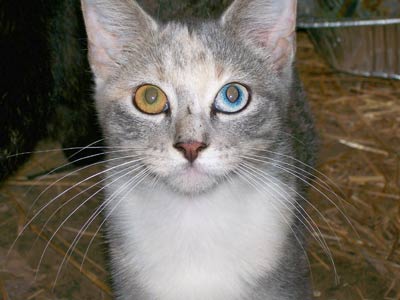 Aqua
Photo by: Patty and Ronnie Hale, Columbus, Kansas
[This is] a picture of a kitten that was dropped at our farm along with a brother kitten. They were pretty poor when I found them around the house and took them to the barn to take a better look at them. Aqua is the one with the two totally different colored eyes and her brother we named Tuffie, they were both very neglected and flea bitten, but with a little flea soap and some ear and teeth cleaning, they are both doing great. Wanted to share the beautiful face of Aqua and her eyes.
Posted on Oct 8, 07 04:10 PM | Comments (13)

See additional entries: