Gimme some sugar!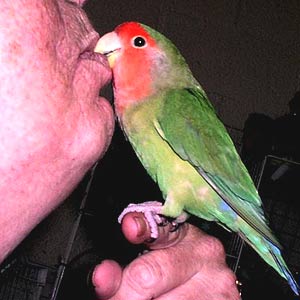 Kahealani
Photo by: Mary Jo Bafile, Hilo, Hawaii
"This is my love bird Kahealani. She'll be 1 year this month and I got her for a birthday gift last July 17th. I've taught her to talk, and she does a lot of it. She says about 8 sentences, she loves to play, and she is very sweet and affectionate. She adores the camera and she's my top model."
« previous | home | next »
The comments to this entry are closed.
« previous | home | next »