A guinea pig eating my food? This is wrong on sooo many levels.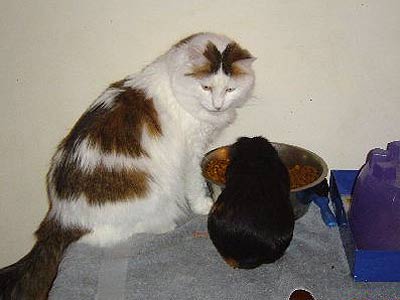 Simba and Chester
Photo by: Linda Neering, Cedar Lake, Indiana
"Simba is a rare tri-colored male, very big and mellow. Our other cats are a little intimidated by his size, but he is a teddy bear. Here is Simba with our guinea pig, Chester, before Chester went to Heaven. (He died from natural causes, not from cat-fear).
We are committed to keeping our pets for better or for worse. I think it is good to teach children that pets are living things, and not to be discarded of like a toy. They fill a part of our lives that no body else can fill."
« previous | home | next »
The comments to this entry are closed.
« previous | home | next »