Cat and mouse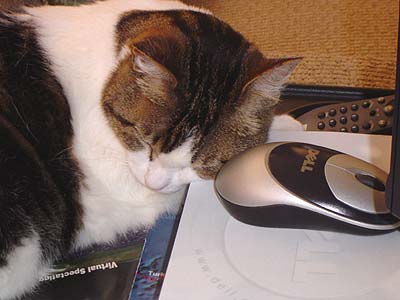 Bait
Photo by: Judi Masters, Ft. Myers, Florida
Judi writes: "My cat's name is "BAIT" Now you probably wonder why name a cat like that. My husband and I live onboard our boat. I wanted a cat and he did not. So when I was actively begging for the cat at the animal shelter in Key Largo Florida, I told him if he let me take her home he could name her. So he bit and said if she doesn't behave onboard she will be bait. He also decided that "BAIT" would be a great choice for a name. There you have it. But, you may also be interested to know that he will never admit that he likes cats. In fact he professes to hate them. But guess who worries most when she can't be found. Cats have a way of endearing themselves to those who don't really want them. He cuddles, talks with, and loves that cat.
« previous | home | next »
The comments to this entry are closed.
« previous | home | next »