2007 Pet Pals Calendar!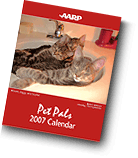 This full-color calendar has been designed to print on regular, letter-sized paper in your inkjet printer. Or you can take the PDF to your local copy place and have it printed there.
Fast Internet Connection
If you have a faster modem (DSL or cable), you'll want to download the calendar as a single file:
Slower Internet Connection
If you have a slower dialup connection, you may prefer to download individual monthly pages (each is 80-90K in size):
Note: the free Adobe Acrobat Reader is required to view and print calendar pages.
Thanks to all who participated; this is one great calendar! Be sure to share it with friends and family.
« previous | home | next »
The comments to this entry are closed.
« previous | home | next »