We cloned ourselves--now we're waiting for the mothership to beam us up.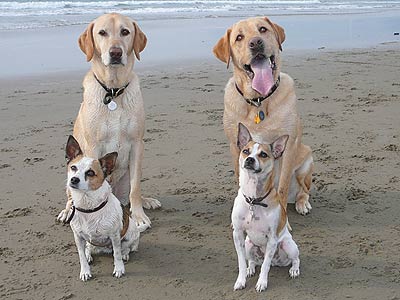 Skippy and Logan (front row), Sutton and Roman (back row)
Photo by: Chandra Pivo, Inglewood, California
Says Chandra, "These four have so much fun together--but who's who?" Roman, who can take a bow, has helped his owner Chandra who was born with Cerebral Palsy. Chandra trained Roman from a pup to help her with walking through crowds of people, up and down stairs, picking things up, and much more. Roman and Chandra also visit retirement centers and schools to give demonstrations on the importance of Service Dogs as well as giving everyone an amazing show when he performs all of his tricks.
Weekly Winner, Week 12
Daily Winner, December 6
« previous | home | next »
The comments to this entry are closed.
« previous | home | next »