I woke up on the wrong side of the dog bed this morning!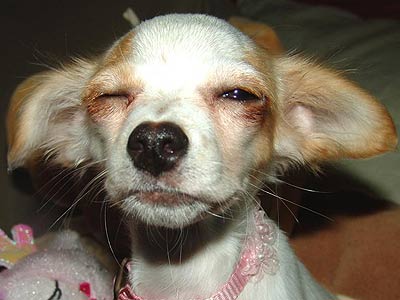 Isabella Karamella Capriccio, aka "Izzy"
Photo by: Nancy Eileen Langworthy, Hudsonville, Michigan
Says Nancy, "Izzy is our adorable 7 month old Chihuhua...She enjoys dressing up and going bye-bye because she always gets lots of attention from people who see her and wonder what type of dog she is because she is cuter than the average Chihuahua!...She has an older brother Dexter who is a Soft Coated Wheaten Terrier and weighs 10 times her weight, but that doesn't hold her back from playing chase with him in the yard. She also has 3 cat sisters who she loves to play with."
Daily Winner, December 5
« previous | home | next »
The comments to this entry are closed.
« previous | home | next »