And the Grand Prize winner is...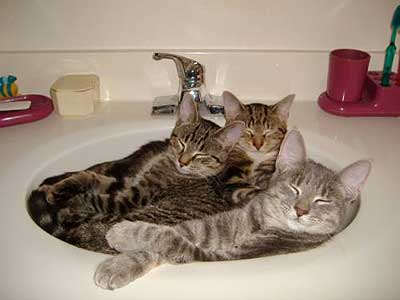 Mouse, Ziggy and Sophie
Congratulations to Robin Wilson of Hawley, Pennsylvania, whose photo of her sink kitties was chosen as the Grand Prize winner of our 2006 Pet Pals photo contest.
This was a VERY tough choice, as the judges liked so many of the finalists. But after polling AARP staff and discussing the different photos, we agreed that this was our winning photo. We loved the photo (three sleeping cats in a sink?!) as well as the story behind it. So again, our congratulations to Robin!
For those of you whose photos didn't appear here, our apologies! We received around 15,000 photos, and just couldn't post them all. However, we will be posting additional photos after the New Year, so be sure to visit regularly to see still more great pet photos!
Thanks again to all and happy holidays from the AARP Pet Pals Team!
« previous | home | next »
The comments to this entry are closed.
« previous | home | next »