The "star"-ling of the show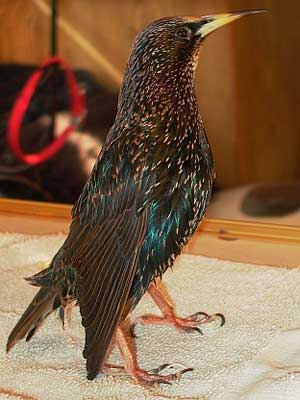 Tyler Bird
Photo by: Douglas Lawrence, Pacific City, Oregon
Lately we've received a number of, errr, "unusual" pets--many with wonderful stories of survival, strength and love. For example, meet Tyler the rainbow starling.
Doug writes, "Tyler Bird fell out of its nest shortly after birth. He was nursed to health, and has survived to his present age of 3.5 years. Like some other bird species, he is capable of talking, and has acquired quite a vocabulary of words and sounds. Among his favorites is to mimic the sound of the telephone, and the theme song of the 60's "Andy Griffith" television show. This was a wild bird at birth, who was rescued, and has become very much the domesticated pet as any other. From time to time he is let out of his cage, and is allowed to fly about the house, with not the slightest desire to leave his situation. He dines on small dog food, and copious amounts of water. He lives with four dogs and five cats very pleasantly!"
Paw-purr-ee selection, November 2
« previous | home | next »
The comments to this entry are closed.
« previous | home | next »