Mom says this will make my eyes go bad, but I still have my tongue!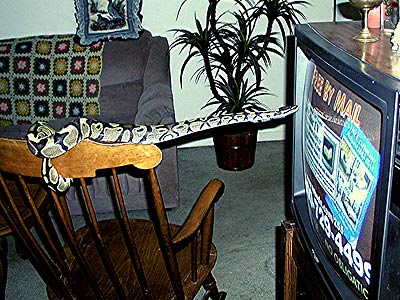 Bo the ball python
Photo by: Barbara Guckert, Alexandria, Virginia
OK, Odd Pets Week is over, but we had to share just one more. Barbara writes, "Rambo's (Bo for short) favorite pastime is watching TV from this old rocker. When he isn't watching TV he's watching the computer screen."
Wonder if he's watching Snakes on a Plane?
Paw-purr-ee selection, November 17
« previous | home | next »
The comments to this entry are closed.
« previous | home | next »