That warm water feels gooood. Hey - wait a minute!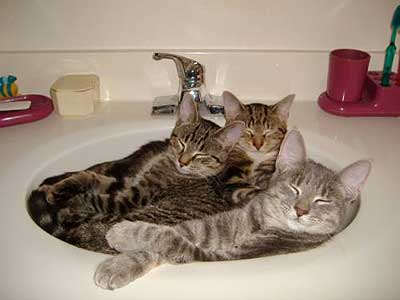 Mouse, Ziggy and Sophie
Photo by: Robin Wilson, Hawley, Pennsylvania
WHEN RACCOONS ATTACK! "Saint Robin" went to great lengths to rescues these sisters, now five months. Says Robin, "Their mom was rescued as she was giving birth to them and their two brothers, Jack and CB, from raccoons who were circling her. We brought her in, she had the kittens, and they have been in the house ever since. Mom has been spayed, judged healthy and has adapted to living with four senior cats. The babies are another story, but so far there have been no serious confrontations with the seniors. A good time is had by all!
Weekly Winner, Week 5
Daily Winner, October 18
« previous | home | next »
The comments to this entry are closed.
« previous | home | next »