Thank goodness for nine lives and kind souls!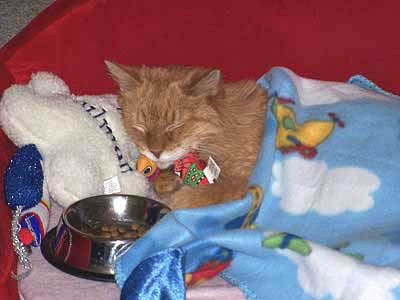 Thomasina
Photo by: Deb Usmanu, Cohoes, New York
This story brought a tear to at least one judge's eye! Shares Deb, "Thomasina is a true story of what love can do. She is an elderly kitty who was found this past winter by roadmen frozen in a puddle of water. She had no home and suffers from severe diabetes and neuropathy from long term neglect. The roadmen pretty much gave her up for dead, but with the dedication of the staff of the Guilderland Animal Hospital, they pulled her through. I have been fortunate enough to have her in my life. When I saw her picture at the animal hospital I had to ask about her. They said she needed a home and my heart melted after hearing her story. With love and affection she has kept our hearts a glow. She enjoys supervising her other rescued brother and two sisters and never has to worry again about not being able to have sweet dreams and love. "
What a wonderful story!
Honorable Mention, Week 6
Week 6 Daily Winner, October 20
« previous | home | next »
The comments to this entry are closed.
« previous | home | next »