Trust me, if we smush our snouts close together like this, we'll get treats!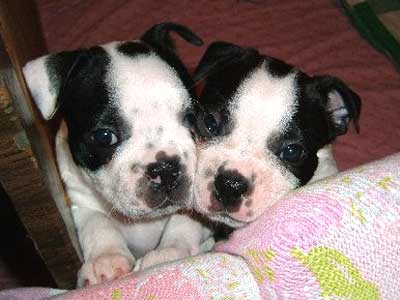 Benjie and Lucky
Photo by: Regina Galvin, Windham, New Hampshire
Regina writes, "I adopted a Boston Terrier in May. A month after we had her, to our surprise, she gave birth to two puppies. They were full bred Boston Terriers also, as we knew who the male dog was. This is a picture of the pups. They were six weeks old at the time. Their names are Benjie and Lucky, a male and female."
Weekly Winner, Week 6
Week 6 Daily Winner, October 23
« previous | home | next »
The comments to this entry are closed.
« previous | home | next »