I said kitty "litter," not "critter!"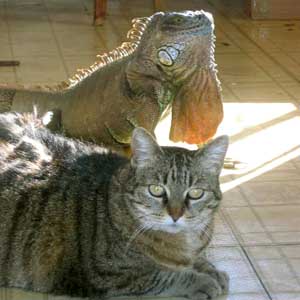 Gwyndolyn (cat) and Rex (iguana)
Photo by: Meredith Alleruzzo, Pasadena, California
Says Meredith, "Gwyndolyn and Rex have made peace and found a way to live together. Rex's hobbies include cycling and computer programming. Gwyndolyn's hobbies are food, keeping out of Rex's sunspots on the floor, and speech/communications. They are sooo cute!"
Paw-purr-ee selection September 21st.
« previous | home | next »
The comments to this entry are closed.
« previous | home | next »